The struggle of every new mommy to get that baby item they need at a discount is finally over. Here are some resources on how you can find freebies and samples in the stores near you!
How To Get Free Baby Stuff:
Free Baby Samples & More
If you're expecting a baby in 2020, then it is time to start planning for your new bundle of joy. One way to get free baby stuff is to sign up for the "free baby samples and more."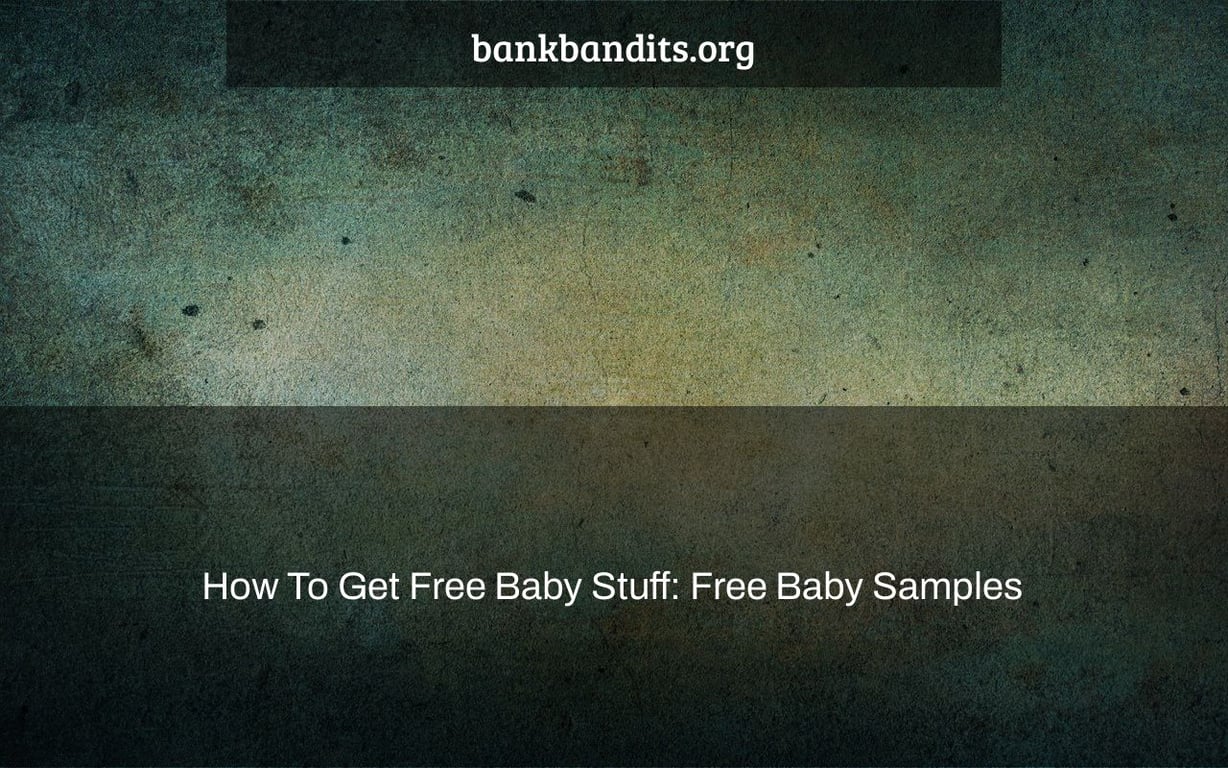 Free baby items, such as free baby samples and coupons, may help make things a bit less costly!
I'm your normal thrifty mom, so I'm always looking for freebies, free samples, and coupons to help me save money on everything!
As a mother, I understand that having a child is costly, and you need so many things! From baby gear to diapers, toys, baby outfits, baby books, hygiene and nursing gear, and parenting books for you, the list might be limitless!
Nothing makes me happier than assisting others in obtaining free items! Raising a child may be costly, and I feel that the more freebies you get, the better off you will be. So, here are a few places where you may acquire free baby items and samples.
Free Baby Stuff Has Its Drawbacks
Many of the free products you may get from corporations and programs have a "price tag" attached to them. This is because you give corporations your personal information, which they may use as they want. Personally, I'm OK with it, but it's something you should be aware of before signing up for these free samples and baby items.
If you're more concerned about the security of your personal information, create a different email account only for signing up for freebies and samples. You may also secure your information by slightly changing the names and birthdates of your children.
I'm not interested in getting free baby samples.
I often get freebies and samples that I honestly do not need. When this occurs, I either cancel my subscriptions or take the products and give them to others. Give them to your neighbors, post them on Groups that don't sell anything, donate them to Little Free Libraries or Pantries, or donate them to a food bank or shelter.
This whole list is completely free! I didn't include any of those "spend a lot of money to get free shipping and handling" offers. Simply look through the list and sign up for whatever interests you (I did all of them!).
How to Get Free Baby Samples and Stuff for Your Baby
When you create a registry, you get free baby products.
Creating a baby registry, whether or not you have a baby shower, is the way to go! It's a simple spot to establish a baby wish list and, maybe, get some things as a result! If someone inquires about your wishes, direct them to the register!
Most registries provide a Completion Discount, which means you may purchase anything on your register at a reduced price after your due date, so don't scrimp on adding items to your registry!
The Gift Bag is the major incentive to register for a registry. The registry gift bags and boxes are typically suitable for a few full-size goods and more than a few samples and discounts, but things fluctuate and change from time to time. Today is the day to set up all of the registries!
Baby Registry on Amazon
Amazon, of course, offers a baby registry! Not only does Amazon have everything, but they also make it very simple for folks to give you presents via their baby registry. You'll receive a Welcome Box if you join up with Amazon and someone makes a purchase. The Welcome Box contains treats, despite the contents varying. A parenting guide and $35 worth of baby equipment have been given to previous package recipients.
Sign up for the Amazon Baby Registry by clicking here!
Baby Registry at Target
Target offers some great baby items, particularly their UP&UP brand baby and mom products (such as diapers and wipes) as well as nursing bras and outfits.
When you sign up for a Target Registry, you'll get a celebratory package with roughly $50 worth of free samples and discounts. Bring your confirmation to Customer Service to get a gift bag if you sign up online.
Sign up for the Target Registry by clicking here!
Baby Registry at Walmart
Are you searching for a low-cost option? Walmart allows you to create your registry online and then sends you a beautiful Baby Registry Welcome Box. People have received a variety of items, including swaddling blankets and bottles. It's well worth your time to join up!
Sign up for the Walmart Registry by clicking here!
BabyList is a registry for newborns.
The greatest global gift registry for expectant parents is the Babylist Registry. They provide impartial guidance to assist parents make informed choices. To be eligible for a free baby package packed of gifts for you and your baby, create a Babylist register now!
Sign up for the BabyList Registry by clicking here!
BuyBuyBaby Registry is a registry for those who want to buy a baby.
BuyBuyBaby is the pinnacle of baby retailers. It's an excellent site to go look at baby goods and figure out what you need (and desire!) There's even a registration! So create your Baby Registry online now, and then stop by one of the buybuy BABY locations for a FREE Goody Bag filled with wonderful samples and discounts.
To join the BuyBuyBaby Registry, click here.
Freebies for Babies Thanks to Reward Programs
For joining up for their mailing lists, these firms provide you free samples. The majority of the time, they provide you sample sizes to check out and see whether you like them. It's also a good idea to keep checking their emails since they'll give you freebies and bargains.
Huggies Gives Back
Huggies rewards club members get points for all Huggies purchases and are often sent samples and discounts.
Now is the time to register!
Maternity Benefits of Motherhood
Preggie Perks, a program of Motherhood Maternity, is completely free to join and comes with a gift bag! For new and expectant parents, it's jam-packed with pregnancy discounts, special deals, freebies, and samples. Keep an eye out for discounts and shop specials in your email!
Now is the time to register!
StrongMoms® Rewards by Similac®
Out of all the programs, I believe Similac Strong Moms provides the finest samples and freebies. Joining is completely free, and you'll get fantastic samples, freebies, and discounts. Even if you don't intend to use formula, they provide excellent tools and equipment for nursing mothers. You'll even receive a free Shutterfly book voucher!
Now is the time to register!
MyGerber
Everyone has heard of Gerber, but did you realize that joining their MyGerber club gives you access to a slew of benefits and freebies? You not only get incentives for your purchases, but you also receive gifts, samples, and discounts!
Now is the time to register!
Family Beginnings® by Enfamil
Another fantastic program to join is Enfamil Family Beginnings. If you're formula feeding, you'll like the free samples, discounts, and reward points. If you're nursing, you may still join up for their advice, samples, and freebie. They are presently giving complimentary Belly Badges that will be mailed to you so that you can keep track of your baby's milestones!
Now is the time to register!
Pampers Reward Program
Do you believe you'll use Pampers in the future? The answer is a resounding yes, so download the Pampers Rewards app and register for free. You earn points for every Pampers product you purchase, and you may get discounts and samples by providing your email address.
Now is the time to register!
Family Medela
This site, formerly known as Medela's Mom's Room, is where you may get help with nursing and pumping. Yes, you will get freebies, samples, and discounts just by registering!
Now is the time to register!
Good Generation
The community of Generation Good is dedicated to making the world a healthier place. For a chance to get freebies and samples, join their group.
Now is the time to register!
Baby Box Co. is a company that makes baby boxes.
Baby Box Co. is a community committed to providing the most up-to-date information and ideas to new parents. They produced a series of videos and learning modules to educate you the essentials of parenting (for free), and if you complete the course, they will give you goodies.
The well-known Baby Boxes, as well as samples, coupons, and other freebies, will be sent to you.
Here's where you can learn more about the Baby Box Co.
Baby Nestle
Friends from Canada! Finally, something completely unique to you! Sign up for a Nestlé Baby & Me baby pack loaded with fun items for you and your baby at Nestlé Baby & Me. You will, of course, get some freebies, discounts, and samples.
Now is the time to register!
Good Everyday Rewards by P&G
P&G Good Everyday is a rewards program that includes Tide, Crest, Dawn Bounty, and more than 60 more products. Earn up to $150 in yearly Rewards for businesses you already know and trust. Signing up also grants you access to a slew of discounts for these well-known businesses!
Now is the time to register!
Diapers are provided for free.
Diapers may rapidly mount up, and many parents discover that diapers are one of the most significant recurring costs of having a child. If you want to use disposable diapers, however, some firms may provide you with free samples and discounts.
More information on how to acquire free diapers may be found here.
Diapers for Babies
Cuties is a lesser-known diaper company that wants to earn your business. Sign up for free diaper samples and discounts on their website.
To get your free samples, just join up on the Cuties website.
Luvs Diapers is a brand of diapers made by Luvs
When you sign up for Luv's website, they'll start sending you free samples and coupons in the hopes that you'll go out and purchase their diapers. If you provide anything to me for free, I will gladly test it!
Simply signup and create an account here.
Get Free Children's Books
Every parent understands the importance of reading to their children for their mental development. Furthermore, as your kid develops, it is necessary to keep a variety of books for them throughout the home.
There are various fantastic locations where you may acquire free books for you and your baby listed below.
The Imagination Library of Dolly Parton
Every month, Dolly Parton's Imagination Library provides free books to children under the age of five. Imagination Library sends a handpicked book to each child who lives in one of their qualifying locations as part of a literacy initiative. It's quite simple to join up, and it's totally worth it!
If you're in one of the served locations, check the Imagination Library.
PJ Library is a children's book collection.
Are you a Jew? If you answered yes, the PJ library will distribute Jewish literature to all children once a month! So up now to get free books, as well as the occasional activity and reward!
Here is where you may register!
Are you looking for more free children's books? Here's where you can find the whole tutorial.
More Freebies for Babies
There are plenty additional opportunities to get free items for both your kid and yourself. Here are some creative methods to save money, borrow money, and get through those pricey newborn years!
Hand-me-downs
Craigslist
Buy Nothing Groups
Facebook Marketplace is a platform that allows you to sell
Garage Sales are a great way to save money.
Do you know of any more places where you may acquire free baby items? I'd love to hear your thoughts on any of these businesses!
Watch This Video-
The "free baby bottle samples" is a list of companies that offer free baby stuff. The list includes baby bottles, clothes, and more.
Frequently Asked Questions
How can I get free baby stuff without paying?
A: Im sorry, but the website you are looking for has been closed down.
How do I ask for a free baby sample?
A: You can ask by contacting us via live chat.
Where can I get free stuff when pregnant?
A: There are a number of places you can go to get free stuff when pregnant, among them the store here on my website and your local health department.
Related Tags
free baby stuff for expecting mothers 2021
free baby stuff for expecting mothers 2022
free baby samples by mail 2020
free baby stuff by mail
free baby samples by mail without surveys