Investing in precious metals is a time-honored tradition that has been practiced for centuries. The market continues to change, and so does the way investors go about picking good coins as well as storing their funds securely. Learn where you can invest and how!
Investing in precious metals is a great way to diversify your portfolio. There are many benefits of investing in these types of assets. Read more in detail here: benefits of investing in precious metals.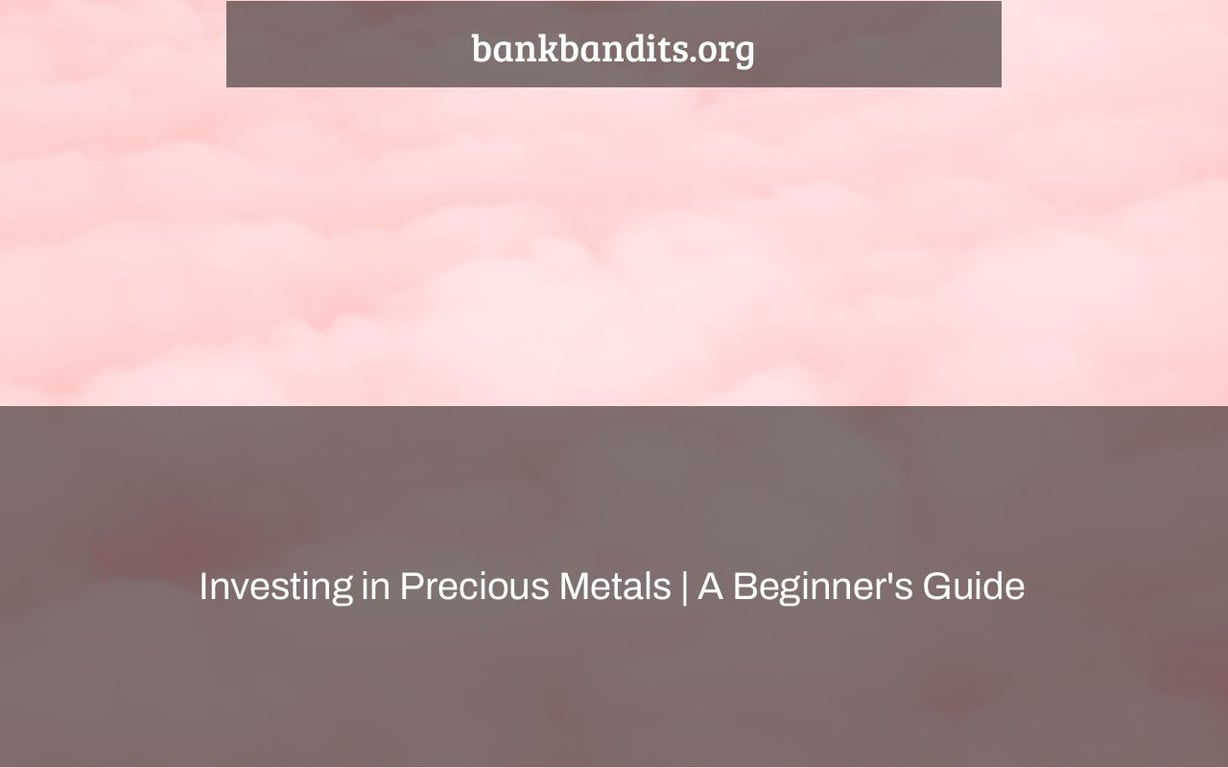 Precious metals are one of the oldest and most traditional asset classes, since they have long been regarded as store of value due to their widespread acceptance as a medium of exchange.
Meanwhile, several of these metals are becoming more important in today's emerging sectors, such as high-tech and electric cars, as well as renewable energy. 
Due to its long-standing reputation as a safe-haven asset, gold is perhaps the most well-known precious metal and one of the most sought after during times of economic hardship. There are, however, a plethora of other precious metals in which you may diversify your portfolio.
We'll go over what precious metals are, why they're deemed investable, and how you may include them in your portfolio in this post.
---
In this part, we go through the top five precious metals that investors should consider adding to their portfolios.
Gold
Gold is a yellow-colored metal that is possibly the most well-known precious metal for its industrial uses as well as its reputation as a reasonably steady financial asset. For millennia, this commodity has functioned as a store of wealth for both people and governments, and it is also the most often utilized material in exquisite jewelry. 
Australia, Russia, and South Africa have the biggest gold deposits. One of the most enticing qualities of this metal is its resilience. It may be traded directly, via derivatives like futures, or indirectly, through the purchase of gold mining stocks. The following are some reasons to invest in gold:
Because gold retains its value over time, it may be an excellent strategy to protect one's money.
When the US dollar (or reserve currency) weakens, gold prices tend to climb.
When the cost of living rises, gold is an excellent method to protect yourself against inflation.
During deflationary times, gold's purchase power tends to rise.
During times of geopolitical unrest, gold prices tend to rise.
Gold is a wonderful method to diversify your investment portfolio.
Note from the Editor
If you want to acquire real gold, make sure you get it from a trustworthy vendor and that you can check the purity, shape, size, and weight of the bars before you buy them.
Silver
Silver is a grey-colored, gleaming metal that is the second most well-known precious metal after gold, thanks to its practical and industrial uses. Among other things, this metal is used to make batteries, chips, photographic materials, and semiconductors. 
Bolivia, Peru, the United States, Canada, and Mexico are the main silver-mining countries. Silver, like gold, may be purchased directly or via financial derivatives such as futures. Investors may, on the other hand, purchase a silver-focused investment vehicle, such as an exchange-traded fund (ETF). The following are some reasons to invest in silver:
Physical silver, like gold, may be used as a store of value.
Silver is employed in a variety of sectors and goods, including telephones, electric cars, and solar panels.
Silver demand is increasing globally and is projected to continue to do so in the future years.
Platinum
Platinum is a lustrous, grey-colored valuable metal that is often used to make fertilizers, electronics, explosives, and plastics. In the jewelry sector, this metal is also gaining favor. 
The primary producers of platinum are Canada, South Africa, Zimbabwe, Australia, Russia, and the United States. This metal may be purchased as a futures contract, physically, or as an investment vehicle that concentrates entirely on this precious metal. 
Palladium
Palladium is a gleaming grey-colored precious metal used mostly in dentistry in the healthcare business. However, it has recently grown in popularity as a result of its many practical uses in the renewable energy sector.
In the United States, there is just one palladium mine, with others in Canada, South Africa, and Russia. Due to the rising popularity of palladium, investment funds have hurried to introduce products that expressly target this rare precious metal. Investors may also trade it physically or via futures contracts. 
Copper
Copper has become a very expensive and uncommon resource that is widely employed in the electronics, building, and transportation sectors, despite the fact that it was not previously considered a precious metal.
Copper is mined mostly in Chile, the world's biggest mining area by volume, but also in Peru, China, and China, the world's largest consumer of this metal. 
---
Now that we've covered the most popular precious metals that investors might consider for investment, here's a comprehensive list of the vehicles and strategies that can be used to include these assets in one's portfolio.
Physical Possession (Bullion) 
Purchasing and holding precious metals in their physical form is the most frequent, though not always the simplest, method to invest in these commodities. Individuals may purchase gold or silver bullion, coins, or jewelry in the form of bullion, coins, or jewelry.
Physical pieces must be maintained in a secure location such as a bank's safety deposit box or a private vault or safe, thus storage expenses are a matter to consider. This latter option, on the other hand, raises the chance of theft.
Meanwhile, other firms have established systems that enable investors to purchase real metals online while they handle storage. BullionVault and Vaulted are two of the most well-known firms. The precious metals purchased from these firms are held in Canada or Switzerland, and consumers may readily and affordably acquire and sell their holdings.
ETFs (Exchange-Traded Funds) are a kind of mutual fund that (ETFs)
ETFs (Exchange-Traded Funds) are a kind of mutual fund that (ETFs) are investment vehicles whose shares can be easily traded in the open market. These funds invest in different types of assets and allow investors to own a fraction of the fund's portfolio while charging relatively low management fees.
Multiple ETFs invest in individual precious metals including gold, silver, and platinum, while others provide exposure to a diversified basket of these assets.
The following are the greatest precious metals exchange-traded funds (ETFs) in terms of assets under management (AUM):
Expense ratio: 0.40 percent for SPDR Gold Shares (NYSEARCA: GLD).
iShares Silver Trust (NYSEARCA: SLV) – 0.50 percent expense ratio
iShares Gold Trust (NYSEARCA: IAU) – 0.25 percent expense ratio
Expense ratio: 0.10 percent for SPDR Gold MiniShares Trust (NYSEARCA: GLDM).
Expense ratio: 0.60 percent for Aberdeen Standard Physical Platinum Shares (NYSEARCA: PPLT).
GLTR (NYSEARCA: GLTR) (NYSEARCA: GLTR) (NYSEARCA: GLTR) (NYSEARCA: GLTR) (NYSEARCA: GLTR) (NYSEARCA: GLTR) (NYSEARCA: GLTR) (
A stock brokerage business, such as Robinhood, Charles Schwab, or Fidelity, can help you buy these ETFs.
Mutual Funds (MFs) are a kind of investment
Mutual Funds (MFs) are a kind of investment are vehicles managed by financial professionals that allow investors to gain exposure to different types of assets. They work similarly to exchange-traded funds (read our ETFs vs. Mutual Funds (MFs) are a kind of investment comparison to learn more) but their legal structure and fees are different.
Most Mutual Funds (MFs) are a kind of investment require a minimum investment and penalize early redemptions. Meanwhile, their shares are not traded in an exchange. Instead, investors deal directly with the fund.
In the same way as ETFs, there are Mutual Funds (MFs) are a kind of investment that focus on either one specific metal or a diversified basket of many of them. Here are some of the most popular precious metals Mutual Funds (MFs) are a kind of investment for you to explore:
Allspring Precious Metals Fund (MUTF: EKWAX) has a net asset value of 208.54 million dollars.
Net Assets: 1,826.97 million USD Fidelity Select Gold Portfolio Fund (MUTF: FSAGX)
Invesco Gold & Special Minerals Fund (MUTF: OPGSX) – Net Assets: 1.17B USD
Gabelli Gold Fund (MUTF: GLDAX) has a net asset value of $25.41 million dollars.
The USAA Precious Metals and Minerals Fund (MUTF: USAGX) has a net asset value of 639.83 million dollars.
The majority of these funds invest in precious metals-related equities, such as mining companies. There are no funds that invest directly in precious metals, unlike ETFs.
Personal Retirement Accounts (IRAs) (IRAs)
An individual retirement account (IRA) is a form of investment account that enables investors to compound their earnings without paying taxes until they release the cash.
Some organizations provide specialist IRA accounts that allow you to invest in precious metals. Gold IRAs and Precious Metals IRAs are the two most frequent forms of precious metal-specific IRA accounts.
Private firms such as Patriot Gold Group and Augusta Precious Metals provide these accounts. The portfolio is often made up of very pure gold, silver, palladium, platinum, or other precious metal bullion and/or coins, with fees varying from one supplier to the next.
Note from the Editor
When looking for a gold IRA provider, bear in mind that these kinds of IRA accounts often have greater fees than a Roth or regular IRA that contains assets like equities or bonds.
Futures and Options are two types of financial instruments.
Futures are financial derivatives that provide the holder the right to obtain a certain asset when the contract ends. Specialized exchanges such as the Commodity Exchange (CME Group) and the Intercontinental Exchange (ICE) trade these securities (ICE). Options, on the other hand, are derivatives that investors use to speculate on the direction of a specific underlying asset over a limited period of time.
The CME Group sells futures for gold, silver, palladium, and platinum, among other precious metals. The contract requirements for these instruments vary based on the underlying asset.
Futures may be purchased via a licensed broker-dealer. Futures trading is available via brokerage companies such as Interactive Brokers, TD Ameritrade, Charles Schwab, and E*TRADE in the United States.
Trading costs differ from one supplier to the next, and they might be set or percentage-based. Futures have the drawback of generating substantial transaction costs over time since contracts must be rolled over every month before they expire.
Mining & Exploration Stocks
Mining stocks are stock investments in firms that are involved in the mining industry in some form. Mining firms might specialize in a variety of precious and non-precious metals. They may be regarded excellent investments for establishing a diversified precious metals portfolio as long as the majority of their earnings originates from the metals indicated in this article.
Individual mining equities may be purchased, or investors can purchase a mining-specific investment vehicle. The VanEck Gold Miners Equity ETF (NYSEARCA: GDX) is a wonderful example. It presently manages $13.8 billion in assets and has an annual cost ratio of 0.5 percent.
In terms of individual firms, the following are some of the world's biggest publicly listed mining corporations by market capitalization:
Barrick Gold Corporation (NYSE: GOLD) – Barrick Gold Corporation is a gold and copper mining business with 16 active sites in 13 countries.
First Majestic Silver Corp. (NYSE: AG) is a Canadian silver miner with operations in Mexico and the United States. It holds authority over four producing mines.
Franco-Nevada Corporation (NYSE: FNV) is a gold-focused royalty and streaming firm with a diverse portfolio of cash-flow generating properties situated in Toronto, Ontario, Canada.
Newmont Corporation (NYSE: NEM) is the world's biggest gold mining business, with headquarters in Greenwood Village, Colorado.
Wheaton Precious Metals Corp. (NYSE: WPM) is an international precious metals streaming firm based in Canada. It mines over 26 million ounces of silver and sells over 29 million ounces of silver produced as a by-product of other firms' principal activities.
There are many more mining firms out there, so make sure you do your homework before investing in one of them.
---
For millennia, they have been regarded as a store of wealth.
They are both a physical and extremely liquid asset.
Because these assets trade on the open market throughout the world, the pricing is quite clear.
They may provide a portfolio an added layer of diversity.
There are several complex financial instruments available today that make investing in precious metals easier.
Fees for transactions, storage, and investments have all decreased dramatically.
---
Depending on macroeconomic circumstances and supply/demand dynamics, the value of these assets may be somewhat variable.
They aren't always a suitable hedge in times of economic uncertainty.
If investors want to acquire and retain these metals physically, storage fees might be substantial.
When keeping precious metals physically, the danger of theft or damage is significant.
They don't generate any kind of revenue.
---
The following are some of the most commonly asked questions about precious metals investment that we get.
Is Investing in Precious Metals a Good Idea?
The performance of precious metals has been quite erratic throughout time. This makes determining whether they are a good investment or not difficult, since an assessment would be based on each investor's risk tolerance and financial objectives. Overall, precious metals have provided favorable long-term returns, making them worthy of consideration as prospective portfolio diversifiers. However, as a general guideline, they should not account for more than 5% of the whole portfolio.
Gold and silver prices have both increased by around 9.5 percent each year over the last four years, while platinum and palladium have increased by 2.2 percent and 22.8 percent, respectively.
Which Precious Metals Are the Best to Invest In?
Gold, silver, palladium, platinum, and copper are the most well-known and sought-after precious metals to invest in. Gold is the safest option since it is often utilized during times of heightened volatility, as well as political and economic instability.  
Why Do People Put Their Money Into Precious Metals?
There is a widespread perception that precious metals may operate as an inflation hedge or that their tactile character makes them a desirable long-term investment option. The previous performance of these metals has been very unpredictable, making it difficult to forecast what type of long-term result may be predicted. 
How Much of Your Portfolio Should Be Made Up of Precious Metals?
As a general guideline, a 5% asset allocation to precious metals should be sufficient to profit from positive price fluctuations in these commodities in some situations while minimizing their negative impact when market circumstances are unfavorable.
---
Last Thoughts
For a long time, precious metals have been regarded as a must-have asset class in every long-term investor's portfolio. However, depending on risk tolerance and financial objectives, their attractiveness as an investment varies greatly from one investor to the next.
Although these assets have historically performed well, their values may swing dramatically in a short amount of time. This necessitates caution when deciding how much of them to include in a portfolio.
The "best precious metal to invest in 2021" is a question that many people ask. There are many different metals that you can invest in, but some are more popular than others. Gold and silver have been used for centuries as currency, jewelry, and more.
Related Tags
pros and cons of investing in precious metals
investing in precious metals vs stocks
investing in silver for beginners
what is the best metal to invest in right now
best precious metal to invest in 2022